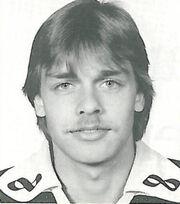 Henrik Cedergren (born August 17,1964) is a retired Swedish ice hockey forward. He was drafted by the Quebec Nordiques in the 7th round, 141st overall in the 1984 NHL Entry Draft.
He played in Sweden from 1982 to 1991.
Ad blocker interference detected!
Wikia is a free-to-use site that makes money from advertising. We have a modified experience for viewers using ad blockers

Wikia is not accessible if you've made further modifications. Remove the custom ad blocker rule(s) and the page will load as expected.