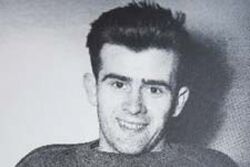 Henri-André Laperriere (born June 12, 1925 in Montreal, Quebec) was a Canadian defenceman who played for the RCAF Flyers who won the gold medal at the 1948 Olympics.
He played junior hockey for the Verdun Terriers in 1944-45. He then moved to the University of Montreal until 1950.
In 1947-48 he was reccomended by Frank J. Selke, then General manager of the Montreal Canadiens, for the Flyers team. Laperriere was accepted and immediately instated as a private in the RCAF.
He scored one goal in the Olympics in the 15-0 shutout victory over Poland.
After the Olympics Laperriere returned to the University of Montreal, having turned down an offer from the New York Rangers, He retired in 1950.
Ad blocker interference detected!
Wikia is a free-to-use site that makes money from advertising. We have a modified experience for viewers using ad blockers

Wikia is not accessible if you've made further modifications. Remove the custom ad blocker rule(s) and the page will load as expected.