Helsinki Ice Hall
Petoluola
Location
Nordenskiöldinkatu 11–13
Helsinki
Opened
October 1 1966
Owner
Jääkenttäsäätiö Ry
Architect
Jaakko Kontio, Kauko Räike
Tenants
HIFK (1966-present)
Jokerit (1967–1997)
Capacity
8,200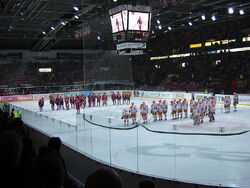 Helsinki Ice Hall (Helsingin Jäähalli) is an indoor arena located in Helsinki, Finland. It is the home arena for HIFK of the SM-liiga. It is sometimes called "Petoluola", Finnish for "The beast's cave", referring to the logo of HIFK: a red panther. It is capable of holding 8,120 people.
Helsinki Ice Hall used to be the main arena for all important ice sports events, as well as indoor arena concerts, but after the construction of Turkuhalli and Hartwall Areena, many events take place in the newer arenas. Helsinki Ice Hall still remains an active arena for concerts, conferences, expos and sports events.
Preceded by
No arena
HIFK
Home Arena
1966 – present
Succeeded by
Current
Preceded by
No arena
Jokerit
Home Arena
1967 – 1997
Succeeded by
Hartwall Areena
Ad blocker interference detected!
Wikia is a free-to-use site that makes money from advertising. We have a modified experience for viewers using ad blockers

Wikia is not accessible if you've made further modifications. Remove the custom ad blocker rule(s) and the page will load as expected.