Helen Resor
Position
Forward
Height
Weight
5 ft 10 in (1.78 m)
154 lb (70 kg)
ECAC Team
Yale Bulldogs
Born
October 18 1985
Greenwich, CT, USA
,
Pro Career
2005 – present
Olympic medal record
Women's ice hockey
Bronze
2006 Turin
Team competition
Helen Resor (born October 18, 1985, in Greenwich, Connecticut) is an American ice hockey player. She won a bronze medal at the 2006 Winter Olympics. She gradutaed from Yale University in 2010. Resor was the first Yale players to play in women's ice hockey at the Olympics.[1]
Playing career
Edit
As a youth player she started a bench-clearing brawl in a game in which she was the only female playing. Resor played her high school hockey at Noble & Greenough Prep School in Massachusetts where she was coached by her uncle, Tom Resor. [2] Helen Resor was the first Yale hockey player to compete in women's ice hockey at the Olympics.[3] Her sister, Jane, also played ice hockey at Yale.
USA Hockey
Edit
Helen Resor was selected to play for Team USA in the 2006 Olympics.[1] Resor was the first Bulldog to achieve that status, and when she won a bronze medal she became the first Yale hockey player of either gender to earn a medal since five Bulldog men won silver with Team USA in 1932.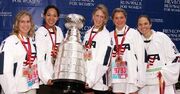 Awards and honors
Edit
2009 Third Team All-ECAC [2]
Finalist for the 2009 Patty Kazmaier Award [3]
References
Edit
Ad blocker interference detected!
Wikia is a free-to-use site that makes money from advertising. We have a modified experience for viewers using ad blockers

Wikia is not accessible if you've made further modifications. Remove the custom ad blocker rule(s) and the page will load as expected.