General

| | |
| --- | --- |
| #  | Number of coaches[a] |
| *  | Spent entire WHA and NHL coaching career with the Jets |
| †  | Elected to the Hockey Hall of Fame as a builder |
| Achievements | Achievements during their Jets head coaching tenure |

Playoffs

| | |
| --- | --- |
| PGC | Games coached |
| PW | Wins |
| PL | Losses |
| PW% | Winning percentage |
Head coaches
Edit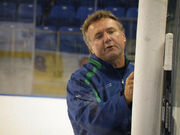 a  A running total of the number of coaches of the Jets. Thus, any coach who have two or more separate terms as head coach is only counted once.
b  Each year is linked to an article about that particular WHA or NHL season.
References
Edit
General
Ad blocker interference detected!
Wikia is a free-to-use site that makes money from advertising. We have a modified experience for viewers using ad blockers

Wikia is not accessible if you've made further modifications. Remove the custom ad blocker rule(s) and the page will load as expected.