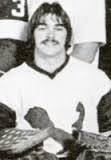 Selected by Los Angeles Kings 7th round (#120) in 1974 NHL Amateur Draft
Selected by Cleveland Crusaders 7th round (#100) in 1974 WHA Amateur Draft
In November 1978, Winnipeg Jets Joe Daley fell ill and in need of a goaltender, the Jets plucked 24-year-old Harvey Stewart from the East Kildonan-Elmwood Millionaires of the CASHL. He joined the Jets in Quebec, and served as Markus Mattsson's backup.
Career Statistics
Edit
Ad blocker interference detected!
Wikia is a free-to-use site that makes money from advertising. We have a modified experience for viewers using ad blockers

Wikia is not accessible if you've made further modifications. Remove the custom ad blocker rule(s) and the page will load as expected.