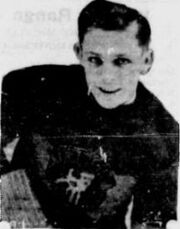 Harvey James Fraser (October 14, 1918, Souris, Manitoba – November 15, 1996) is a retired professional ice hockey player who played 21 games in the National Hockey League. He played with the Chicago Black Hawks in 1944-45.
Fraser played in the Saskatchewan Senior Hockey League from 1935 to 1944, except for 1938-39 when he played for the Wembley Monarchs in Great Britain. In 1943-44 Fraser switched to the Pacific Coast Hockey League for one season.
The Chicago Black Hawks called him up for his only NHL time in 1944-45. Fraser scored 5 goals and 4 assists in 21 games and then was sent down to the Providence Reds of the American Hockey League (AHL).
Fraser played in the AHL until 1950 when he joined the Hamilton Tigers of the Ontario Hockey Association's Major Series. He retired at the end of the 1950-51 season.
References
Edit
Ad blocker interference detected!
Wikia is a free-to-use site that makes money from advertising. We have a modified experience for viewers using ad blockers

Wikia is not accessible if you've made further modifications. Remove the custom ad blocker rule(s) and the page will load as expected.