The Hart Recreation Center is the main athletic center at the College of the Holy Cross in Worcester, Massachusetts. It was built in 1975 and is home to the Holy Cross Crusaders athletic teams. It is named for the Rev. Francis J. Hart, S.J., the guiding force behind intramurals at Holy Cross for more than 40 years.
The basketball arena seats 3,600, and has hosted the Patriot League men's basketball tournament numerous times. The hockey rink seats 1,400 and hosts the Division I men's hockey team and the Division III women's hockey team, which was formed in 1998. The rink also was the site of the 1999 and 2002 MAAC hockey championships. It also contains a swimming pool, rowing tanks, and racquetball & squash courts. In 1997, the Carol & Park B. Smith Wellness Center was opened as an addition to the building, and houses strength and conditioning facilities.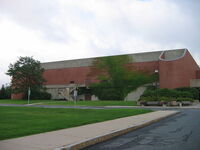 External links
Edit
Ad blocker interference detected!
Wikia is a free-to-use site that makes money from advertising. We have a modified experience for viewers using ad blockers

Wikia is not accessible if you've made further modifications. Remove the custom ad blocker rule(s) and the page will load as expected.