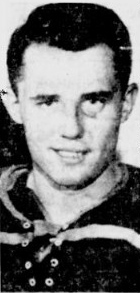 Harrison Gray (born September 5, 1941 in Calgary, Alberta) was a professional Goaltender who played in one game for the Detroit Red Wings of the National Hockey League.
He played junior hockey for the Edmonton Oil Kings from 1959–62, which was a Red Wings farm team at the time. He turned pro in the Wings' system in 1962-63. In 1963-64, Gray replaced the injured Terry Sawchuk in a 7-3 loss to the Montreal Canadiens.
Gray went on to play five seasons in the Eastern Hockey League. After one season with the senior Drumheller Miners he retired in 1970.
Ad blocker interference detected!
Wikia is a free-to-use site that makes money from advertising. We have a modified experience for viewers using ad blockers

Wikia is not accessible if you've made further modifications. Remove the custom ad blocker rule(s) and the page will load as expected.