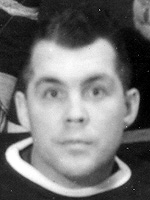 Harold "Twinkle" Starr (July 7, 1909 - September 25, 1981) was a professional ice hockey player who played 207 games in the National Hockey League. Born in Ottawa, Ontario, he played with the Ottawa Senators, Montreal Maroons, Montreal Canadiens, Detroit Red Wings, and New York Rangers.
He played from 1921-29 in the Ottawa City Senior League for the Ottawa Shamrocks, Ottawa Gunners, and Ottawa St Brigids. Starr then turned pro with the Ottawa Senators.
Starr continued to play pro hockey until 1936. After a year off, he then returned to play two seasons in the Ottawa City Senior League.
He retired in 1939.
External links
Edit
Ad blocker interference detected!
Wikia is a free-to-use site that makes money from advertising. We have a modified experience for viewers using ad blockers

Wikia is not accessible if you've made further modifications. Remove the custom ad blocker rule(s) and the page will load as expected.