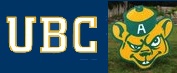 The Hamber Trophy was donated by Eric Werge Hamber, the Chancellor of the University of British Columbia, in 1949. It was for an annual ice hockey competition between the University of British Columbia and the University of Alberta.
At the time, the University of British Columbia had rarely met with the other universities in western Canada in hockey games. This was intended as spur to ice hockey at the UBC.
The two schools did not belong to the same league until 1961-62. That year, and subsequent years that they played in the same league, the Hamber Trophy competition was part of the league schedule.
List of Seasons
Edit
Ad blocker interference detected!
Wikia is a free-to-use site that makes money from advertising. We have a modified experience for viewers using ad blockers

Wikia is not accessible if you've made further modifications. Remove the custom ad blocker rule(s) and the page will load as expected.