The Halton Ravens were a Canadian Junior ice hockey team based in Burlington, Ontario Canada. The team relocated to St. George, Ontario and were renamed the St. George Ravens for the 2016-17 season. They play in the Greater Metro Junior A Hockey League.
Originally announced as the Cyclones, the Halton Ravens joined the GMHL in the Spring of 2013.[1]
On September 5, 2013, the Ravens played their first game in team history, at home, against the defending league champion Bradford Rattlers. The Ravens would lose the game 6-1. Brett Lee scored the first goal in franchise history at 6:47 of the second period.[2]
On September 15, 2013, the Ravens won their first ever franchise game, at home, versus the Powassan Eagles. The final score was 7-4, with Adam Ostermeier scoring the game winner halfway through the third. Mike Calouri made 29 saves for the win.[3]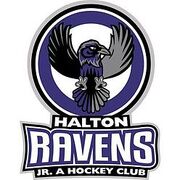 Season-by-season standings
Edit
Season
GP
W
L
T
OTL
GF
GA
P
Results
Playoffs
2013-14
42
20
21
-
1
178
176
41
12th of 20 GMHL
Lost Division Quarter-final, 3-0 (Blue Ice Jets)
2014-15
42
29
12
-
1
275
174
59
2nd of 12 S Div
8th of 22 GMHL
Won Division Semifinal, 3-1 (Whalers)
Won Division Finals, 3-2 (Steam)
Lost League Semifinals, 4-3 (Titans)
2015-16
42
29
11
0
2
218
152
60
3rd of 10 S Div
10th of 30 GMHL
Won Div. Quarterfinals, 3-0 (Predators)
Won Div. Semifinals, 3-2 (Attack)
Lost Div. Finals, 4-0 (Kings)
References
Edit
External links
Edit
Ad blocker interference detected!
Wikia is a free-to-use site that makes money from advertising. We have a modified experience for viewers using ad blockers

Wikia is not accessible if you've made further modifications. Remove the custom ad blocker rule(s) and the page will load as expected.