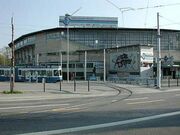 Hallenstadion
Location
Zurich, Switzerland
Opened
July 18, 1939
Renovated
2005
Owner
Architect
Architekturbüro Karl Egender - Renovation by Nussli
Tenants
Zurich Open (Women's Tennis Association) (1984-2008)
Capacity
13,000 (Boxing)

The Hallenstadion is a multifunctional arena, musical and music hall, auditorium and site of expositions in the Swiss city of Zurich.
Designed by Bruno Giacometti, it opened on July 18, 1939, and was renovated in 2005. The arena is located in the quarter of Oerlikon in northern Zurich and has a capacity of up to 13,000 spectators in boxing.
The Hallenstadion hosted the 1998 World Championship, along with Basel, and is the home stadium of the Swiss ice hockey team ZSC Lions.

On September 29, 2009, the Hallenstadion hosted the 2009 Victoria Cup. The game pit the NHL's Chicago Blackhawks against the Champions Hockey League title-holder, the Zurich Lions.
References
Edit
External links
Edit
Ad blocker interference detected!
Wikia is a free-to-use site that makes money from advertising. We have a modified experience for viewers using ad blockers

Wikia is not accessible if you've made further modifications. Remove the custom ad blocker rule(s) and the page will load as expected.