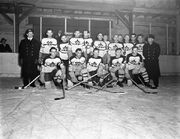 Halifax Navy was a senior and intermediate team.
It was made up of personnel from the Royal Canadian Navy in what was its main base.
Navy played in the senior Halifax City League for four seasons (1940-41, 1941-42, 1942-43, and 1945-46). It won the league championship in every one of these seasons except for 1942-43.
The team also won the Maritimes Intermediate Championship in 1941-42, 1948-49, and 1952-53.
Ad blocker interference detected!
Wikia is a free-to-use site that makes money from advertising. We have a modified experience for viewers using ad blockers

Wikia is not accessible if you've made further modifications. Remove the custom ad blocker rule(s) and the page will load as expected.