Ad blocker interference detected!
Wikia is a free-to-use site that makes money from advertising. We have a modified experience for viewers using ad blockers

Wikia is not accessible if you've made further modifications. Remove the custom ad blocker rule(s) and the page will load as expected.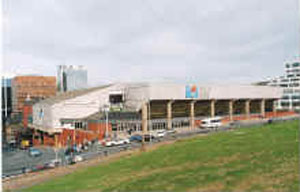 Halifax is a regional municipality of about 300,000 and the capital of Nova Scotia, Canada. The first recorded rules of the game of ice hockey are believed to have been developed (but not wriiten down) in Halifax and subsequently known as Halifax Rules as opposed to the Montreal or McGill Rules  which were later used later on in Montreal. Halifax has had professional hockey dating back as far as 1910 with the Halifax Crescents in the Interprovincial Professional Hockey League. One of three copies of the AVCO World Trophy (the World Hockey Association championship trophy) resides in the Nova Scotia Sports Hall of Fame, located in the Scotiabank Centre. The other two are in the Hockey Hall of Fame in Toronto and the other in Winnipeg.
Early Amateur Teams
Edit
Professional Teams
Edit
(Interprovincial Professional Hockey League, 1910-1911) league becomes MPHL
(Maritime Professional Hockey League, 1912-1914) team returns to a lower lever league
(Maritime Professional Hockey League, 1912-1914) join EPHL
(Eastern Professional Hockey League, 1914) don't play any games after joining
Mercantile League Teams
Edit
Major Senior Teams
Edit
Senior Teams
Edit
(Halifax City League, 1940-1941)
(Halifax City League, 1942-1943)
(Halifax City League, 1945-1946)
(Halifax City League, 1940-1943)
(Halifax City League, 1945-1946)
South Shore Intermediate Hockey League, 1954-1955)
(Halifax City League, 1940-1941)
(Halifax City League, 1942-1943)
(Halifax City League, 1945-1946)
(Maritime Senior Hockey League, 1948-1951) join Maritime Major Hockey League
(Maritime Major Hockey League, (1951-1952) replaced by Atlantics, join SSSHL
(South Shore Senior Hockey League, 1952-1953)
(Eastern Nova Scotia League, 1927-1928)
New Eastern League, 1928-1929)
(Halifax City League, 1920-1929)
(Halifax City League, 1935-1937)
(Maritimes Armed Forces League, 1955-1958) join Nova Scotia Senior Hockey League
(Nova Scotia Senior Hockey League, 1958-1959) return to Armed Forces League
(Maritimes Armed Forces League, 1955-1958) join Nova Scotia Senior Hockey League
(Nova Scotia Senior Hockey League, 1958-1959) return to Armed Forces League
Major Junior Teams
Edit
Junior Teams
Edit
(Independent junior team, 1965-1968) form Metro Valley Junior A Hockey League
(Metro Valley Junior A Hockey League, 1968-1969) became Halifax Atlantics when sold by Montreal Canadiens to local interests
(Metro Valley Junior League, 1977-1989) renamed DQ Blizzards
(Maritime Junior Hockey League, 2008-2010) become Metro Marauders (based in Dartmouth)
(Maritime Junior Hockey League, 1993-1995) become Deartmouth Oland Exports
(Maritime Junior Hockey League, 1998-2003)
Phantom Teams
Edit
University teams (see also Senior League section)
Edit
(Halifax City League, 1920-1926) merged with King's College for 1925-1926
(Halifax City League, 1935-1937) join Eastern Nova Scotia Senior Hockey League
(Nova Scotia Senior Hockey League, 1937-1939)
Champions
Edit
External Links
Edit