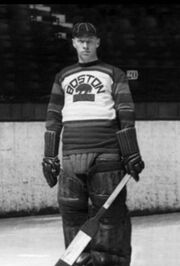 Harold "Hal" Winkler (born March 20, 1892 in Gretna, Manitoba, Canada – May 29 1956) was a Canadian ice hockey goaltender.
He started out in senior hockey with various teams in Winnipeg from 1913-19, most notably the Winnipeg Ypres. He then played for the senior Brandon Elks, Moose Jaw Maple Leafs, and Saskatoon Crescents from 1919-21.
Winkler started his professional career with the Edmonton Eskimos of the Western Canada Hockey League in 1922. He also played with the Calgary Tigers in 1924-25 and 1925-26.
In 1926 when the Western League collapsed, he moved to the New York Rangers of the National Hockey League. He also played with the Boston Bruins.
During the 1957-58 season the Stanley Cup was redone. Winkler's name was added to the Stanley Cup as a member of the 1929 Boston Bruins, even though he played whole season in the minors.
He spent three seasons in the minor pros before retiring in 1931.
Awards & Achievements
Edit
WCHL All-Star Team (1923)
External links
Edit
Ad blocker interference detected!
Wikia is a free-to-use site that makes money from advertising. We have a modified experience for viewers using ad blockers

Wikia is not accessible if you've made further modifications. Remove the custom ad blocker rule(s) and the page will load as expected.