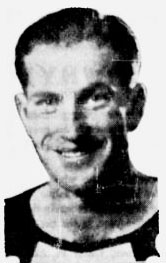 Hal Picketts (born April 22, 1909, date of death unknown) was a professional ice hockey right wing who played 48 games in the National Hockey League. Born in Asquith, Saskatchewan, he played with the New York Americans.
He played amateur hockey in Saskatchewan for the Saskatoon Hilltops, Saskatoon Tigers, Biggar Nationals, and North Battleford Beavers from 1927 to 1931. In 1931-32 he turned pro with the Bronx Tigers.
Picketts made it to the NHL with the New York Americans for one season (1933-34) and played 48 games, scoring 3 goals and 1 assist. After that he played in the minors until 1938.
He took a year off to be reinstated as an amateur and then played senior for the Saskatoon Quakers and Yorkton Terriers, retiring in 1941.
References
Edit
Ad blocker interference detected!
Wikia is a free-to-use site that makes money from advertising. We have a modified experience for viewers using ad blockers

Wikia is not accessible if you've made further modifications. Remove the custom ad blocker rule(s) and the page will load as expected.