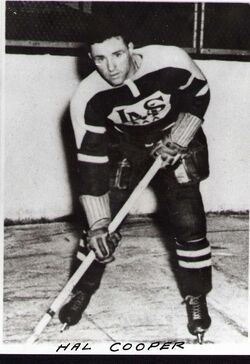 Harold Wallace "Hal" Cooper (born August 29, 1923, date of death unknown)[1] was a Canadian ice hockey player who played eight games with the New York Rangers during the 1944-45 NHL season. He was 5'5" tall and weighed 155 lbs. He was born in New Liskeard, Ontario.
He played junior hockey for the Hamilton Victorias from 1931 to 1933 and for the Sudbury Cub Wolves in 1933-34. He then emebarked on a long senior career in Northern Ontario with the Falconbridge Falcons and the Kirkland Lake Blue Devils through the 1939-40 season. He won the Allan Cup in 1940 with the Blue Devils.
From 1940 to 1943 he played for the senior Niagara Falls Cataracts. In 1943 he turned pro with the Providence Reds and also earned an eight game callup with the New York Rangers in 1944-45. He then played two seasons for the Hershey Bears and one with the Houston Huskies before sitting out the 1947-48 season due to injury.
Cooper finished off his career with two seasons for the senior Hamilton Tigers and retired in 1950.
References
Edit
External links
Edit
Ad blocker interference detected!
Wikia is a free-to-use site that makes money from advertising. We have a modified experience for viewers using ad blockers

Wikia is not accessible if you've made further modifications. Remove the custom ad blocker rule(s) and the page will load as expected.