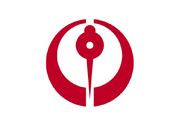 Hachinohe (in Japanese: 八戸市, Hachinohe-shi) is a city located in southeastern part of the Aomori prefecture in the Tōhoku region of Japan. As of 2009, the city had an estimated population of 238,421 and a density of 781 persons per km². Its total area was 305.17 km². Hachinohe is located in the flatlands on the east coast of the prefecture, facing the Pacific Ocean. The city has a cold maritime climate characterized by cool summers and cold winters with heavy snowfall.
External Links
Edit
Ad blocker interference detected!
Wikia is a free-to-use site that makes money from advertising. We have a modified experience for viewers using ad blockers

Wikia is not accessible if you've made further modifications. Remove the custom ad blocker rule(s) and the page will load as expected.