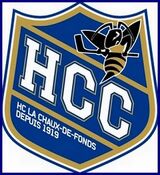 HC La Chaux-de-Fonds is a Swiss professional ice hockey team.
Founded: 1919
Home arena: Patinoire des Mélèzes (capacity 7,200)
Swiss Championships won: 6 (1968, 1969, 1970, 1971, 1972, 1973)
National League B Championships won: 4 (1955, 1965, 1996, 2000)
Retired numbers
Edit
Players who played in the NHLEdit
External links
Edit
Ad blocker interference detected!
Wikia is a free-to-use site that makes money from advertising. We have a modified experience for viewers using ad blockers

Wikia is not accessible if you've made further modifications. Remove the custom ad blocker rule(s) and the page will load as expected.