Ad blocker interference detected!
Wikia is a free-to-use site that makes money from advertising. We have a modified experience for viewers using ad blockers

Wikia is not accessible if you've made further modifications. Remove the custom ad blocker rule(s) and the page will load as expected.
[[File:]]

HC Kometa Brno (Kometa means comet in English) is the second most successful ice hockey club in the Czech Republic with 11 Czechoslovak league titles (right after HC Dukla Jihlava which have 12 titles). With three European Cup titles, Kometa is also the most successful Czech club in international ice hockey. The club was founded in 1953 as an army ice hockey club with the name Rudá Hvězda Brno (Red Star Brno). In 1962 the club changed its name to ZKL Brno and stopped being an army team. In 1996 the team relegated from Czech Extraliga to the second highest ice hockey league – Czech 1.liga. On 1 April 2009, Kometa bought the licence for Czech Extraliga from another south Moravian club, HC Znojemští Orli. This club will now serve as a farm team for Brno.
Czechoslovak league titles: 11 (1955, 1956, 1957, 1958, 1960, 1961, 1962, 1963, 1964, 1965, 1966)
European cup champion: 3 (1966, 1967, 1968)
Spengler cup winner: 1 (1955)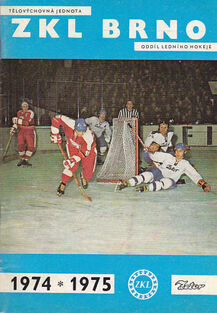 History of the team name
Edit
1953 – Rudá hvězda Brno
1962 – ZKL Brno
1976 – TJ Zetor Brno
1990 – HC Zetor Brno
1993 – HC Královopolská Brno
1994 – HC Kometa Brno
1995 – HC Kometa Brno BVV
1997 – HC Kometa Brno
Notable players
Edit
Current players
Edit
Current roster for season 2010/2011
Position
#
Name
Acquired
G
35
Jiří Trvaj
2009
G
1
Sasu Hovi
2009
D
32
Radim Bičánek
2009
D
8
Juraj Valach
2011
D
89
Michal Kempný
2008
D
71
Tomáš Malec
2010
D
53
Jan Švrček
2011
D
23
Radim Ostrčil
2009
D
5
Tomáš Žižka
2011
D
3
Petr Šenkeřík
2011
D
72
Ondřej Dlapa
2011
F
41
Andrej Podkonický
2011
F
12
Leoš Čermák
2011
F
28
Radek Dlouhý
2009
F
29
Jakub Koreis
2011
F
9
Roman Erat
2009
F
16
Radim Hruška
2010
F
10
Petr Hubáček
2010
F
11
Miroslav Holec
2011
F
27
Tomáš Pospíšil
2010
F
67
Branislav Jankovič
2011
F
61
Jakub Svoboda
2010
F
26
Jaroslav Svoboda
2009
F
20

Hynek Zohorna
External links
Edit