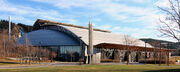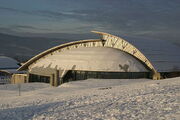 Håkons Hall Sport Centre is an arena in Lillehammer, Norway. Originally built as the larger of the two ice hockey venues for the 1994 Winter Olympics, the arena can hold up to 11,500 people. Lillehammer Ishockeyklubb has played a few games there, but the two most important hockey tournaments played in the arena were the 1994 Olympics (famed for Peter Forsberg's goal in the deciding penalty shootout of the final game) and the 1999 World Ice Hockey Championships. It was also the ceremonial arena for the 1994 Winter Paralympics. Lillehammer IK's home games are played in the smaller Kristins Hall located nearby. The last game Lillehammer played there was during the 1994/95 season.
References
Edit
External links
Edit
Ad blocker interference detected!
Wikia is a free-to-use site that makes money from advertising. We have a modified experience for viewers using ad blockers

Wikia is not accessible if you've made further modifications. Remove the custom ad blocker rule(s) and the page will load as expected.