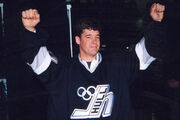 Guy Rouleau (born April 16, 1965 in Montreal, Quebec - died December 7, 2008 in Montreal) was a Canadian centre who played in the minor pros in North America and also in Europe after a stellar career in the Quebec Major Junior Hockey League.
He played junior hockey for the Longueuil Chevaliers and the Hull Olympiques. He won several awards in the 1985-86 season.
Despite that, he was not drafted by any NHL team, probably because of his small size. He turned pro in 1986-87 with the Sherbrooke Canadiens. In 1987-88 he scored 73 points in 76 games for the Canadiens.
In 1991 he went to Europe where he played until 1997, when he finished his career with the Reno Rage.
Rouleau was inducted into the QMJHL Hall of Fame in 2001. The Olympiques have retired his number "77".
He died on December 7, 2008, of brain cancer.
Ad blocker interference detected!
Wikia is a free-to-use site that makes money from advertising. We have a modified experience for viewers using ad blockers

Wikia is not accessible if you've made further modifications. Remove the custom ad blocker rule(s) and the page will load as expected.