Guldpipan (in English - Golden Whistle) officially known as SICO:s guldpipa, is a Swedish ice hockey award, awarded annually since 1982 to the premier referee in Elitserien as judged by the members of Sveriges Ishockeyspelares Centralorganisation (SICO; in English - Sweden's ice hockey players central organisation). The award holds a high status among officials since only players are allowed to vote. Ulf Rådbjer has the record of winning the award seven consecutive times.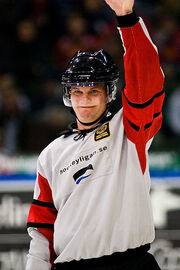 Referee still active
References
Edit
Ad blocker interference detected!
Wikia is a free-to-use site that makes money from advertising. We have a modified experience for viewers using ad blockers

Wikia is not accessible if you've made further modifications. Remove the custom ad blocker rule(s) and the page will load as expected.