Ad blocker interference detected!
Wikia is a free-to-use site that makes money from advertising. We have a modified experience for viewers using ad blockers

Wikia is not accessible if you've made further modifications. Remove the custom ad blocker rule(s) and the page will load as expected.

The Guelph Gryphons are an ice hockey team that represents the University of Guelph. They compete in the OUA Conference in the Canadian Interuniversity Sport athletic program.
On March 3, 2011, a postseason match between the Queen's Golden Gaels and the Guelph Gryphons became the longest collegiate hockey game, male or female, Canadian or American — on record. The match began on Wednesday and it only ended on Thursday. The duration of the match was 167 minutes and 14 seconds when Queen's forward Morgan McHaffie placed a rebound past Gryphons goalie Danielle Skoufranis.[1]
Year by year
Edit
| | | | | | | |
| --- | --- | --- | --- | --- | --- | --- |
| Year | GP | W | L | T | OTL | Pts |
| 2006-07 | 24 | 8 | 11 | 4 | 1 | 21 |
International
Edit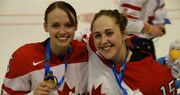 Awards and honors
Edit
OUA honors
Edit
| | | | |
| --- | --- | --- | --- |
| Player | Position | Season | Honor |
| Tina Vlad | Defense | 1981-82 | OUA First Team All-Star |
| Sue Scherer | Defense | 1982-83 | OUA First Team All-Star |
| Sue Scherer | Defense | 1983-84 | OUA First Team All-Star |
| Jenny Patterson | Forward | 1989-90 | OUA First Team All-Star |
| Sue Patterson | Forward | 1989-90 | OUA First Team All-Star |
| Jules Stevens | Forward | 1989-90 | OUA First Team All-Star |
| Sue Patterson | Forward | 1990-91 | OUA First Team All-Star |
| Marci Hickmott | Goaltender | 1990-91 | OUA Second Team All-Star |
| Kelli Chittick | Defense | 1990-91 | OUA Second Team All-Star |
| Elizabeth Duval | Defense | 1990-91 | OUA Second Team All-Star |
| Marci Hickmott | Goaltender | 1991-92 | OUA First Team All-Star |
| Nancy Deschamps | Forward | 1991-92 | OUA First Team All-Star |
| Helen Knowles | Defense | 1991-92 | OUA Second Team All-Star |
| Stephanie Slade | Goaltender | 1992-93 | OUA Second Team All-Star |
| Cassie Campbell | Defense | 1992-93 | OUA Second Team All-Star |
| Liz Duval | Forward | 1992-93 | OUA Second Team All-Star |
| Michelle Hanes | Forward | 1992-93 | OUA Second Team All-Star |
| Helen Knowles | Forward | 1992-93 | OUA Second Team All-Star |
| Liz Duval | Forward | 1993-94 | OUA First Team All-Star |
| Jennifer Dewar | Goaltender | 1993-94 | OUA Second Team All-Star |
| Sarah Applegarth | Defense | 1993-94 | OUA Second Team All-Star |
| Cassie Campbell | Forward | 1993-94 | OUA Second Team All-Star |
| Michelle Holmes | Forward | 1993-94 | OUA Second Team All-Star |
| Jennifer Dewar | Goaltender | 1994-95 | OUA First Team All-Star |
| Cassie Campbell | Forward | 1994-95 | OUA Second Team All-Star |
| Liz Duval | Defense | 1994-95 | OUA Second Team All-Star |
| Tanja Vlahovich[4] | Defense | 1999-2000 | OUA Second Team All-Star |
| Bianca Kitts | Forward | 2006-07 | OUA Second Team All-Star |
| Jessica Zerafa | Forward | 2010-11 | OUA Second Team All-Star |
| Jackie Sollis | Forward | 2010-11 | OUA Second Team All-Star |
Cite error: <ref> tags exist, but no <references/> tag was found