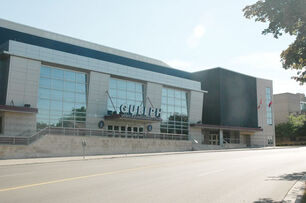 Guelph is a city of about 100,000 located about 100 kilometers west of Toronto, Ontario, Canada.
OHA Sr., 1894-1896; 1906-1907)
(OHA Sr. B, 1948-1949)
(OHA Jr., 1896-1897; 1905-1906; 1908-1911; 1912-1914; 1920-1929; 1930-1933)
(OHA Jr. A, 1934-1935
(Ontario Hockey Association, 1939-1942, 1947-1960) aka Mad Hatters
(Southern Ontario Junior A Hockey League, 1972-1975) renamed Holody Platers
(Southern Ontario Junior A Hockey League, 1975-1977) join OJHL as Platers
(Ontario Junior A Hockey League, 1981-1982) city gets OHL team
(Canadian Professional Hockey League (1929-1930) join OPHL
(Ontario Professional Hockey League (1930-1931) folded
OHA Jr. A, 1936-1937)
(Ontario Provincial Junior A Hockey League 1977-1981)
(Ontario Hockey League, 1982-1989) moved to Owen Sound
(Ontario Hockey Association Jr. A, 1960-1963) become Kitchener Rangers
OHA Sr. A, 1963-1966)
University Team
Edit
Champions
Edit
Sleeman Centre (formerly Guelph Sports & Entertainment Centre)
Centennial Arena
University of Guelph Athletics Centre
Brant Avenue Park Rink
Burns Drive Park Rink
Exhibition Park Arena
West End Recreation Centre
Victoria Road Recreation Centre
External Links
Edit
Ad blocker interference detected!
Wikia is a free-to-use site that makes money from advertising. We have a modified experience for viewers using ad blockers

Wikia is not accessible if you've made further modifications. Remove the custom ad blocker rule(s) and the page will load as expected.