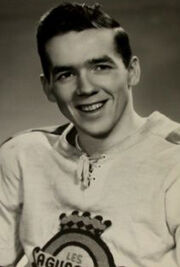 Greig Hicks (born August 10, 1933 in Schumacher, Ontario) is a retiredCanadian centre.
He played junior hockey for the Kitchener Greenshirts from 1951 to 1954. He turned pro with the Buffalo Bisons in the 1953-54 playoffs.
From 1953 until the team folded in 1959, Hicks played for the Chicoutimi Saguenéens of the Quebec Hockey League. He won the Byng of Vimy Trophy as the league Most Valuable Player in 1957-58.
Hicks then played for the Cleveland Barons of the American Hockey League for two seasons. He finished off his pro career with the North Bay Trappers of the Eastern Professional Hockey League in 1961-62.
Ad blocker interference detected!
Wikia is a free-to-use site that makes money from advertising. We have a modified experience for viewers using ad blockers

Wikia is not accessible if you've made further modifications. Remove the custom ad blocker rule(s) and the page will load as expected.