The Great Plains Athletic Conference (GPAC) was a member of the Canadian Interuniversity Athletics Union (CIAU). It was formed in 1972 when the Western Intercollegiate Athletic Association split in two. The western teams (Victoria, UBC, Alberta, Calgary, and Saskatchewan) formed the Canada West Universities Athletic Association while the eastern teams (Brandon, Manitoba, Winnipeg, Lakehead from the ICHA, and later Regina) formed the GPAC (usually referred to as "G Pac"). This situation continued until 1985 when the two leagues reunited under the Canada West banner in hockey, and in 1988 in all sports.
Participating Universities
Edit
List of Seasons and Champions
Edit
Click on the links in the "Season" column to go to the page for that season. Click on the "Champion" column to go to the University Cup games or that team.
Logos and Photos
Edit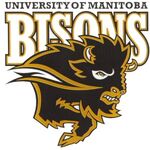 National links:
Western links:
Atlantic links:
Ontario-Quebec links:
International links:
College links:
Ad blocker interference detected!
Wikia is a free-to-use site that makes money from advertising. We have a modified experience for viewers using ad blockers

Wikia is not accessible if you've made further modifications. Remove the custom ad blocker rule(s) and the page will load as expected.