Ad blocker interference detected!
Wikia is a free-to-use site that makes money from advertising. We have a modified experience for viewers using ad blockers

Wikia is not accessible if you've made further modifications. Remove the custom ad blocker rule(s) and the page will load as expected.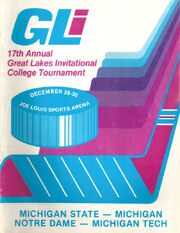 The Great Lakes Invitational is a four-team NCAA men's ice hockey tournament held annually at Joe Louis Arena in Detroit between Christmas and New Year.
The tournament was born out of a conversation between the general manager of Olympia Stadium, Lincoln Cavaleri, Michigan Tech's legendary coach, John MacInnes, and Detroit Red Wings scout Jack Paterson. The three men were discussing the lack of American-born players in the National Hockey League and concluded that a prestigious collegiate tournament could make a difference by promoting interest in hockey among young athletes, as well as the general public. Jack Tompkins, American Airlines vice president, former University of Michigan goalie, and a member of the Detroit Red Wings organization, championed their vision as well, and together in 1965, they founded the Great Lakes Invitational hockey tournament.[1]
The GLI has grown into one of the premier college and holiday sporting events in the country, originating at Detroit's Olympia Stadium. Michigan Tech, the host for the tournament since its inception, added Michigan as a co-host in 1976 and moved into its present home, Joe Louis Arena, in 1979.
Michigan State University is traditionally selected as a third participant while the fourth is a different team each season. The GLI is the second most attended college hockey tournament behind only the Beanpot. In 1999, the GLI surpassed the one-million mark in total attendance.
Future participants will be Colorado College (2010), Boston College (2011), and St. Cloud State (2012).
Yearly results
Edit
Year
Champion
Runner-up
Third place
Fourth place
John MacInnes Trophy (MVP)
2009
Michigan State
Rensselaer Polytechnic Institute
Michigan
Michigan Tech
Brett Perlini, MSU
2008
Michigan
Michigan State
Michigan Tech
North Dakota
Louie Caporusso, UM
2007
Michigan
Michigan Tech
Providence
Michigan State
Billy Sauer, UM
2006
Michigan State
Michigan
Harvard
Michigan Tech
Bryan Lerg, MSU
2005
Colorado College
Michigan State
Michigan
Michigan Tech
Joey Crabb, CC
2004
Michigan State
Michigan
New Hampshire
Michigan Tech
Jim Slater, MSU
2003
Boston College
Michigan State
Michigan
Michigan Tech
Joe Pearce, BC
2002
Boston University
Michigan
Michigan State
Michigan Tech
Sean Fields, BU
2001
North Dakota
Michigan State
Michigan
Michigan Tech
Tim Skarperud, UND
2000
Michigan State
Michigan Tech
Boston College
Michigan
Ryan Miller, MSU
1999
Michigan State
Michigan
Michigan Tech
Lake Superior State
Shawn Horcoff, MSU
1998
Michigan State
Michigan
Northern Michigan
Michigan Tech
Mike Gresl, MSU
1997
Michigan State
Michigan
Michigan Tech
St Lawrence
Mike Weaver, MSU
1996
Michigan
Lake Superior State
Michigan State
Michigan Tech
Brendan Morrison, UM
1995
Michigan
Michigan State
Michigan Tech
Northern Michigan
Brendan Morrison, UM
1994
Michigan
Michigan State
Michigan Tech
Cornell
Brendan Morrison, UM
1993
Michigan
Michigan State
Michigan Tech
Notre Dame
David Oliver, UM
1992
Michigan
Northern Michigan
Michigan State
Michigan Tech
Cam Stewart, UM
1991
Michigan
Michigan Tech
Michigan State
Harvard
Steve Shields, UM
1990
Michigan
Maine
Michigan Tech
Michigan State
Steve Shields, UM
1989
Michigan
Michigan State
Michigan Tech
Northern Michigan
Warren Sharples, UM
1988
Michigan
North Dakota
Michigan State
Michigan Tech
Todd Brost, UM
1987
Wisconsin
Michigan State
Michigan
Michigan Tech
Dean Anderson, UW
1986
Western Michigan
Michigan
Michigan State
Michigan Tech
Bill Horn, WMU
1985
Michigan State
Rensselaer Polytechnic Institute
Michigan
Michigan Tech
Don McSween, MSU
1984
Michigan State
Michigan Tech
Michigan
Bowling Green
Bob Essensa, MSU
1983
Michigan State
Michigan Tech
Northern Michigan
Michigan
Dan McFall, MSU
1982
Michigan State
Michigan Tech
Michigan
Notre Dame
Dale Krentz, MSU
1981
Notre Dame
Michigan Tech
Michigan, Michigan State
Dave Laurion, ND
1980
Michigan Tech
Michigan
Michigan State
Harvard
Paul Fricker, UM
1979
Michigan Tech
Michigan
Wisconsin
Michigan State
Murray Eaves, UM
1978
Michigan Tech
Ohio State
Boston University
Michigan
John Rockwell, MTU
1977
Michigan Tech
Michigan
Lake Superior State
Western Michigan
Dave Joelson, MTU
1976
Michigan Tech
Michigan
Brown
Bowling Green
Greg Hay, MTU
1975
Michigan
Michigan Tech
Boston University
Pennsylvania
Stu Ostlund, MTU
1974
Michigan Tech
Michigan
Harvard
Yale
Robbie Moore, UM
1973
Michigan State
Michigan Tech
Boston College
Pennsylvania
Tom Ross, MSU
1972
Harvard
Michigan Tech
Boston University
Michigan
Dave Hynes, Har
1971
Michigan Tech
Michigan State
Dartmouth
Notre Dame
Ian Williams, ND
1970
Michigan Tech
Michigan
Colgate
Brown
Mike Usitalo, MTU
1969
New Hampshire
Michigan State
Michigan Tech
Princeton
Larry Smith, UNH
1968
Michigan Tech
Wisconsin
Michigan State
Michigan
Bill Watt, MSU
1967
North Dakota
Michigan Tech
Michigan State
Western Ontario
Roger Bamburak, UND
1966
Michigan
Michigan State
Michigan Tech
Western Ontario
Mel Wakabayashi, UM
1965
Toronto
Michigan Tech
Boston University
Colorado College
Henry Monteith, UT
Team records
Edit
| Team | Titles | Runner-up | Third place | Fourth place | Years participated |
| --- | --- | --- | --- | --- | --- |
| Michigan | 13 | 13 | 9 | 5 | 40 |
| Michigan State | 12 | 12 | 10 | 3 | 37 |
| Michigan Tech | 9 | 12 | 10 | 14 | 45 |
| North Dakota | 2 | 1 | 0 | 1 | 4 |
| Toronto | 1 | 0 | 0 | 0 | 1 |
| New Hampshire | 1 | 0 | 1 | 0 | 2 |
| Colorado College | 1 | 0 | 0 | 1 | 2 |
| Western Michigan | 1 | 0 | 0 | 1 | 2 |
| Wisconsin | 1 | 1 | 1 | 0 | 3 |
| Boston College | 1 | 0 | 2 | 0 | 3 |
| Notre Dame | 1 | 0 | 0 | 3 | 4 |
| Boston University | 1 | 0 | 4 | 0 | 5 |
| Harvard | 1 | 0 | 2 | 2 | 5 |
| Maine | 0 | 1 | 0 | 0 | 1 |
| Ohio State | 0 | 1 | 0 | 0 | 1 |
| Rensselaer Polytechnic Institute | 0 | 2 | 0 | 0 | 2 |
| Lake Superior State | 0 | 1 | 1 | 1 | 3 |
| Northern Michigan | 0 | 1 | 2 | 2 | 5 |
| Colgate | 0 | 0 | 1 | 0 | 1 |
| Dartmouth | 0 | 0 | 1 | 0 | 1 |
| Providence | 0 | 0 | 1 | 0 | 1 |
| Brown | 0 | 0 | 1 | 1 | 2 |
| Cornell | 0 | 0 | 0 | 1 | 1 |
| Princeton | 0 | 0 | 0 | 1 | 1 |
| St Lawrence | 0 | 0 | 0 | 1 | 1 |
| Yale | 0 | 0 | 0 | 1 | 1 |
| Bowling Green | 0 | 0 | 0 | 2 | 2 |
| Pennsylvania | 0 | 0 | 0 | 2 | 2 |
| Western Ontario | 0 | 0 | 0 | 2 | 2 |
References
Edit