Ad blocker interference detected!
Wikia is a free-to-use site that makes money from advertising. We have a modified experience for viewers using ad blockers

Wikia is not accessible if you've made further modifications. Remove the custom ad blocker rule(s) and the page will load as expected.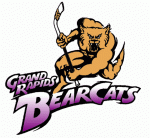 The Grand Rapids Bearcats were a team that played in the North American Hockey League from 1998 to 1999. The team was based out of the Deltaplex. The team relocated from the Otsego County Sportsplex in Gaylord, Michigan where they were known as the Gaylord Grizzlies and assumed the Bearcats identity. The team would be renamed during the 1999-2000 season to the Grand Rapids Rockets when the operations of the team were taken over by the league.  The team would then move to Lansing, Michigan in 2000 where they became the Capital Centre Pride until the team folded in 2003.
Yearly Standings
Edit
Season
GP
W
L
T
OTL
SOL
PTS
GF
GA
Finish
Playoffs
Saginaw Gears
1991-92
41
9
29
1
2
-
21
138
220
4th East
1992-93
41
14
21
5
1
-
33
162
185
3rd East
1993-94
46
17
19
8
2
-
42
185
183
4th East
1994-95
44
20
19
4
1
-
45
162
199
5th overall
Saginaw Gears/Gaylord Grizzlies
1995-96
46
20
19
4
3
-
47
167
170
6th overall
Lost in first round
Gaylord Grizzlies
1996-97
46
16
26
-
4
0
36
165
206
7th overall
1997-98
56
14
36
-
0
6
34
159
228
8th overall
Grand Rapids Bearcats
1998-99
56
27
29
-
0
0
54
175
197
6th overall
Lost in first round
Grand Rapids Bearcats/Grand Rapids Rockets
1999-00
56
18
35
-
0
3
39
148
196
5th East
Capital Centre Pride
2000-01
56
21
30
-
5
0
47
185
216
4th East
2001-02
56
24
28
-
4
0
52
190
208
5th East

2002-03

56
26
25
-
5
0
57
178
209
4th East
Lost in first round