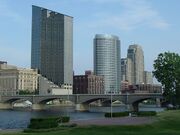 Grand Rapids is a city of Michigan, United States. As of 2000, its population is 197,800.
Hockey in Grand Rapids
Edit
(International Hockey League, 1996-2001) join American Hockey League when league folds
American Hockey League (2001-Present)
Eastern Amateur Hockey League (1949-1950) join International Hockey League
International Hockey League (1950-1956) became Huntington (WV) Hornets
North American Hockey League (1999-2000) became Capital Centre Pride, based in Lansing
Delta Plex Arena (1950-Present) formerly known as Grand Rapids Stadium, Stadium Arena, and Turner Arena
Griff's Ice House-Belknap Ice Arena
Paterson Ice Center (formerly Standard Federal Ice Center)
Eagles Ice Center (formerly Jolly Roger Ice Club)
Notable players
External Links
Edit
Ad blocker interference detected!
Wikia is a free-to-use site that makes money from advertising. We have a modified experience for viewers using ad blockers

Wikia is not accessible if you've made further modifications. Remove the custom ad blocker rule(s) and the page will load as expected.