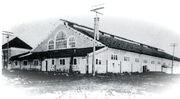 Gouin Street Arena is the predecessor to the Sault Memorial Gardens, Sault Ste. Marie's premier sports complex from 1949-2006. It was built in the early 1900s on Gouin Street between Queen and Bay Streets near East Street. The Arena housed in-season ice surfaces for both ice hockey and curling. The building's seating was bench-style (in much the same fashion as the Memorial Gardens) and capacity was around 1000. In 1910, a fire completely destroyed the Gouin Street building. The gutted building was repaired and expanded with a wing built on the north side of the original structure, apart from the hockey rink, solely for curling. Another disastrous fire destroyed the building on July 3, 1965.
Photo from sootoday.com
Ad blocker interference detected!
Wikia is a free-to-use site that makes money from advertising. We have a modified experience for viewers using ad blockers

Wikia is not accessible if you've made further modifications. Remove the custom ad blocker rule(s) and the page will load as expected.