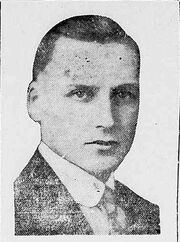 Gordon (Gord) Sydney Meeking (August 26, 1890-December 21, 1965) was a Canadian professional ice hockey player for the Ottawa Senators (original), Toronto 228th Battalion, Victoria Aristocrats and Regina Capitals.
Playing career
Edit
Born in Barrie, Ontario, Meeking played junior hockey for the local Barrie Colts from 1907 until 1910. He then moved to Toronto and played for Toronto Eatons and Toronto R & AA in the Ontario Hockey Association seniors until 1915. In 1915–16, he became a professional player with the Ottawa Senators. He enlisted in the Canadian army for World War I. Before going to Europe to fight, he played for the Toronto 228th, a team of enlisted professional ice hockey players. After the war, he returned, and first played for Glace Bay Miners of the Cape Breton league. He moved out west and played for the Victoria Aristocrats in 1920-21 and the Regina Capitals in 1921-22 before retiring.
Ad blocker interference detected!
Wikia is a free-to-use site that makes money from advertising. We have a modified experience for viewers using ad blockers

Wikia is not accessible if you've made further modifications. Remove the custom ad blocker rule(s) and the page will load as expected.