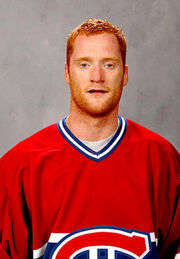 Gordie Dwyer (born January 25, 1978 in Dalhousie, New Brunswick) is a Canadian ice hockey player who plays left wing. He was drafted by the St. Louis Blues in the 3rd round, 67th overall in the 1996 NHL Entry Draft, but never played for the Blues. He has played for the Tampa Bay Lightning, New York Rangers and the Montreal Canadiens.
He attended Philemon Wright High School in Hull, Quebec while playing for the Hull Olympiques of the QMJHL. He has also played for the Laval Titan, Beauport Harfangs, Drummondville Voltigeurs and the Quebec Remparts in the QMJHL.
Dwyer achieved notoriety after receiving a 23-game suspension for an altercation with officials in a pre-season game as a member of the Tampa Bay Lightning on September 19, 2000. The suspension stands as one of the longest in NHL history.
In 2004, he signed as a free agent by the Carolina Hurricanes but never played for them. He played for the Lowell Lock Monsters of the American Hockey League, where he had 9 points and 183 penalty minutes in 56 games. He remained with Lowell for the 2005–06 season and due to a shoulder injury, he played only 17 games where he had 4 points with 37 penalty minutes.

Career Notes:
Traded to Tampa Bay by Montreal for Mike McBain, November 26, 1999.
Traded to NY Rangers by Tampa Bay for Boyd Kane, October 10, 2002.
Claimed on waivers by Montreal from NY Rangers, February 21, 2003.
Signed as a free agent by Carolina, August 11, 2004.
Missed majority of 2005–06 season recovering from a shoulder injury.

He went to the Vancouver Canucks training camp in 2006 hoping to earn a roster space. He also attended the New York Islanders 2007 training camp where he was a late cut. Through 108 NHL contests he has never scored a goal, though he has obtained 5 assists and 394 penalty minutes. He spent the latter half of the 2006–07 season with the Örebro Vipers of Swedish Division 1C. In his first game for Örebro, he notched two assists, where he had 15 points and 16 penalty minutes in 11 games.. In the 2007–08 season he played in Villingen-Schwenningen for the SERC Wild Wings in the German Bundesliga Germany2, where he had 7 points and 34 penalty minutes in 14 games. and previously for the Portland Pirates of the American Hockey League, where he had 3 points and 27 penalty minutes in 13 games.
He is expected to repeat with the Örebro Watford Vipers of Swedish Division 1 for the 2008-2009 season. The Summerside Western Capitals Hockey Club has named Gordie Dwyer as their new Head Coach and Associate General Manager. The Summerside Western Capitals are coming off a very successful 2008 – 2009 season, winning the Maritime Junior A Hockey League Championship, the Eastern Canadian, Fred Page Cup Championship and competed at the Royal Bank Cup national championship.
In The Hockey News 2011 edition of the 100 Most Powerful people in ice hockey, Dwyer was considered one of the Top 40 under the age of 40. This recognition was attributed to his assistance in the development of Tuff 'n Lite, a cut resistant stock. [1]
References
Edit
↑

The Hockey News, Volume 64, Number 14, January 17, 2011, p.25, Publisher: Caroline Andrews, Transcontinental Media
External links
Edit
Ad blocker interference detected!
Wikia is a free-to-use site that makes money from advertising. We have a modified experience for viewers using ad blockers

Wikia is not accessible if you've made further modifications. Remove the custom ad blocker rule(s) and the page will load as expected.