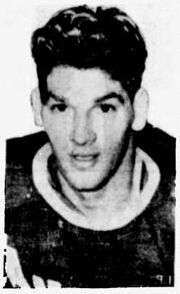 Gord Davidson (born December 5, 1918 in Stratford, Ontario - died August 8, 2004) was a Canadian defenceman who played two seasons for the New York Rangers.
He played junior hockey for the Moose Jaw Canucks from 1935 to 1938. Davidson then played senior hockey for the Regina Aces, Regina Vic-Aces, and the Regina Rangers from 1938 to 1941, winning the Allan Cup with the Rangers in 1941.
That Allan Cup win got the New York Rangers interested. They brought him to their farm team the New York Rovers in 1941-42, where he made the Eastern Hockey League first all-star team and then up to the big team in 1942-43. He played part of the 1943-44 season before being traded to the Buffalo Bisons.
Davidson finished off his career in the American Hockey League and retired in 1951.
In the NHL Davidson played in 51 games and scored 3 goals and 6 assists.
Ad blocker interference detected!
Wikia is a free-to-use site that makes money from advertising. We have a modified experience for viewers using ad blockers

Wikia is not accessible if you've made further modifications. Remove the custom ad blocker rule(s) and the page will load as expected.