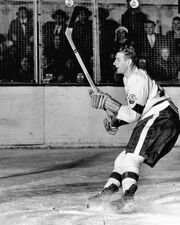 Glen Frederick Skov (born January 26, 1931 in Wheatley, Ontario) was a centre in the NHL who played for the Detroit Red Wings, Chicago Black Hawks and Montreal Canadiens and is the younger brother of former referee Art Skov. He won 3 Stanley Cups with Detroit in 1952, 1954, 1955.
Skov scored 102 points in 47 games with the junior Windsor Spitfires in 1949-50. The next season, he started out with the Omaha Knights in the United States Hockey League but was called up to the Detroit Red Wings later in the season.
He played four seasons with the Wings, winning the Stanley Cup in three of those seasons. Since the Wings already had some high scorers, Skov became more of a defensive specialist.
Skov was traded to the Chicago Blackhawks in 1955 and played there for four seasons. He then joined the Montreal Canadiens in 1960 and was going to be a coach of one of their farm teams. However, a contract agreement could not be reached and he retired in 1961.
In 650 NHL games he scored 106 goals and 136 assists.
References
Edit
Ad blocker interference detected!
Wikia is a free-to-use site that makes money from advertising. We have a modified experience for viewers using ad blockers

Wikia is not accessible if you've made further modifications. Remove the custom ad blocker rule(s) and the page will load as expected.