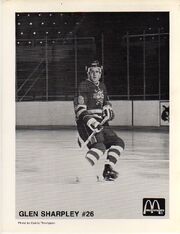 Glen Sharpley (born September 6, 1956 in York, Ontario) is a retired professional ice hockey player who played 286 games in the National Hockey League. He played with the Minnesota North Stars and Chicago Black Hawks.
Sharpley played junior with the Hull Festivals of the Quebec Major Junior Hockey League and was drafted 3rd overall by the Minnesota North Stars in the 1976 NHL Amateur Draft.
He played five solid seasons with the Stars and then went to the Chicago Black Hawks in the middle of the 1980-81 season. The next season his eye was severly injured. He retired at the end of the season.
Sharpley made a comeback in 1985-86 and played with several minor pro teams. In 1986-87 he played 15 games with the British Dundee Rockets and scored 71 points. Sharpley then scored 19 points in 5 playoff games. He retired for good after that,
External links
Edit