The Glasgow Grinders are an ice hockey team that were formed in May 2011 from a group of Braehead Clan fans. Playing in the Scottish Recreational Ice Hockey Conference they are a mixed team, in both sex and ability!
Season 20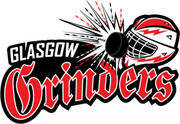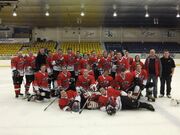 11/12 Played 16 Won 2 Tied 1 Lost 13 GF 29 GA 116
They get their name from the ice hockey term for a player that is not a star, but is always there for the team.
"Play the position you're asked to play. Play the tactics you're given. Follow the Coach's decisions without question. Encourage your team mates to excel. Be ready when you're needed for as much or as little time you're needed. Enjoy your hockey. Play with the heart of a Grinder!!!" qv. 'Fatal'
Training is usually on a Tuesday evening at Braehead Arena at 20.00, although the team also use the ice at Kilmarnock Galleon Centre for training nights when the Braehead Arena is not available.
Their website is http://www.glasgowgrinders.co.uk [[Category:[Ice Hockey in Scotland]]]
Ad blocker interference detected!
Wikia is a free-to-use site that makes money from advertising. We have a modified experience for viewers using ad blockers

Wikia is not accessible if you've made further modifications. Remove the custom ad blocker rule(s) and the page will load as expected.