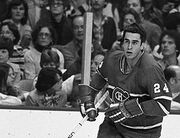 Gilles Lupien (born April 20, 1954 in Brownsburg, Quebec) is a retired Canadian defenceman.
He played for the Quebec Remparts, Montreal Red White and Blue, and the Sherbrooke Castors of the Quebec Major Junior Hockey League from 1971 to 1974. The Montreal Canadiens picked him 33rd overall in the 1974 NHL Amateur Draft. He played for the Nova Scotia Voyageurs from 1974 to 1977, winning the Calder Cup in 1975-76 and 1976-77.
Lupien started his career with the Montreal Canadiens in 1977. He also played with the Pittsburgh Penguins and Hartford Whalers. Lupien won two Stanley Cups with Montreal in 1978 and 1979. He retired in 1982.
He played in 226 NHL games, scoring 5 goals and 25 assists while serving 416 penalty minutes. In 25 playoff games (all with Montreal) Lupien had no points and 21 penalty minutes.
Gilles is one of professional hockey's top agents, representing such stars as Martin Brodeur, Steve Bernier, and Roberto Luongo.
External links
Edit
Ad blocker interference detected!
Wikia is a free-to-use site that makes money from advertising. We have a modified experience for viewers using ad blockers

Wikia is not accessible if you've made further modifications. Remove the custom ad blocker rule(s) and the page will load as expected.