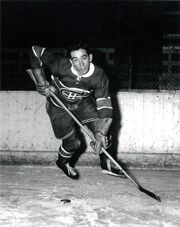 Joseph Gilles Dube (born June 2, 1927 in Sherbrooke, Quebec) is a retired Canadian professional ice hockey forward who played 12 games in the National Hockey League for the Montreal Canadiens. He also played 2 playoff games for the Detroit Red Wings in 1954, so his name was put on the Stanley Cup.
He played junior hockey for the Montreal Junior Canadiens in 1946-47 and then returned to his hometown to play senior hockey for two seasons. Dube impressed the Montreal Canadiens enough to get a contract as a free agent in 1949. He played 12 games in 1949-50 for the Canadiens and scored a goal and two assists. He played 1949-50 and 1950-51 for the Cincinnati Mohawks.
In 1951-52 he returned home to Sherbrooke and played for the Sherbrooke Saints for three seasons until they folded. In 1953-54 he played in two playoff games for the Detroit Red Wings and got his name on the Stanley Cup. After that season, he played for the Shawinigan Falls Cataractes until 1957.
After that he played for senior and intermediate teams in Sherbrooke until his retirement in 1962.
External links
Edit
Ad blocker interference detected!
Wikia is a free-to-use site that makes money from advertising. We have a modified experience for viewers using ad blockers

Wikia is not accessible if you've made further modifications. Remove the custom ad blocker rule(s) and the page will load as expected.