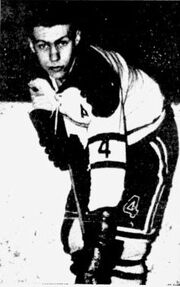 Ghislain Delage (born September 15, 1943 in Farnham, Quebec) was a hockey coach in the Quebec Major Junior Hockey League from 1969 to 1980.
He coached the St. Jerome Alouettes from 1969 to 1971 and then moved to the Sorel Éperviers in 1971-72.
Delage had his best success with the Sherbrooke Castors where he was the coach from 1972 to 1980. He won two President's Cups in 1974-75 and 1976-77. He was the coach when the Castors represented Canada at the 1976 World Junior Championship.
After being fired by the Castors in 1980 Delage went into business since he could not get another coaching job.
Ad blocker interference detected!
Wikia is a free-to-use site that makes money from advertising. We have a modified experience for viewers using ad blockers

Wikia is not accessible if you've made further modifications. Remove the custom ad blocker rule(s) and the page will load as expected.