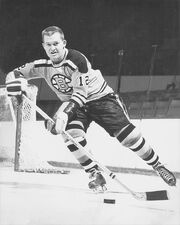 Gerry Ouellette (born November 1, 1938 in Grand Falls, New Brunswick) was a professional ice hockey player who played 34 games in the National Hockey League. He played with the Boston Bruins.
He played Junior "B" with the Waterloo Siskins in 1958-59 and then turned pro with the Kingston Frontenacs of the Eastern Professional Hockey League in 1959-60. The Boston Bruins brought him up for 34 games in 1960-61, scoring 5 goals and 4 assists.
He was returned to the Frontenacs and played minor pro hockey until 1971, including five years with the Buffalo Bisons from 1966 to 1970.
In 1971 he became the coach of the senior Campbellton Tigers for three years. In 1974 he started a two year comeback playing for the Tigers.
Ouelette retired in 1976.
References
Edit
Ad blocker interference detected!
Wikia is a free-to-use site that makes money from advertising. We have a modified experience for viewers using ad blockers

Wikia is not accessible if you've made further modifications. Remove the custom ad blocker rule(s) and the page will load as expected.