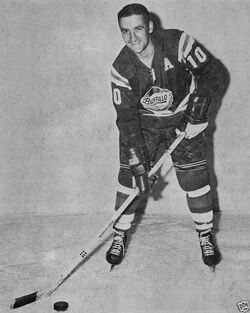 Gerry Melnyk (born September 16, 1934 in Edmonton, Alberta, Canada, died June 14, 2001) is a former Canadian ice hockey forward.
Melnyk began his National Hockey League career with the Detroit Red Wings in 1955. He also played for the Chicago Black Hawks and St. Louis Blues with whom he retired following the 1967–68 season. In 243 regular season NHL games, Melnyk recorded 39 goals and 77 assists for 116 career points.
External links
Edit
Ad blocker interference detected!
Wikia is a free-to-use site that makes money from advertising. We have a modified experience for viewers using ad blockers

Wikia is not accessible if you've made further modifications. Remove the custom ad blocker rule(s) and the page will load as expected.