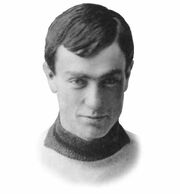 George Taylor Richardson (September 14, 1886 in Kingston, Ontario – February 10, 1916) was a Canadian amateur ice hockey defenseman who played for Queen's University.
He played for Queen's from 1903 to 1906. The team won the intercollegiate titles in 1904 and 1906. In 1907 he joined the senior Kingston 14th Regiment team that played in the Ontario Hockey Association senior final every year from 1907 to 1909. Richardson scored seven goals as Kingston defeated Stratford 9-7 in the 1907-08 OHA Senior Season final.
Richardson joined the Canadian Army in World War I and was killed in action in 1916.
Richardson was inducted into the Hockey Hall of Fame in 1950.
References
Edit
External links
Edit