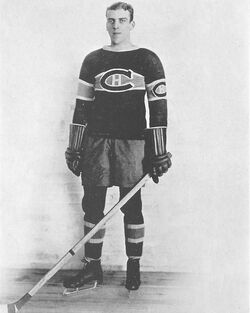 George Patterson (May 22, 1906 – January 20, 1977) was a professional ice hockey centre who played nine seasons in the National Hockey League (NHL). He was born in Kingston, Ontario, Canada.
As an NHL rookie, Bernard scored the first goal for the newly-named Toronto Maple Leafs in 1926–27. He was also a member of the following teams: the Montreal Canadiens, New York Americans, Boston Bruins, Detroit Red Wings, and St. Louis Eagles.
He played junior hockey with the Kitchener Greenshirts. He played his last NHL game in 1935. In his NHL career, he played in 284 games and scored 51 goals and 27 assists.
After that he played 10 seasons in the minor pros, retiring in 1945.
Ad blocker interference detected!
Wikia is a free-to-use site that makes money from advertising. We have a modified experience for viewers using ad blockers

Wikia is not accessible if you've made further modifications. Remove the custom ad blocker rule(s) and the page will load as expected.