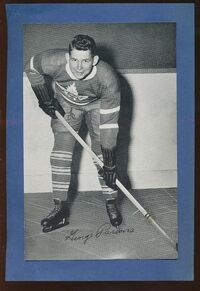 George Parsons (June 28, 1914 in Toronto, Ontario – June 30, 1998) is a retired professional ice hockey player who played 64 games in the National Hockey League. He played with the Toronto Maple Leafs.
Parsons played junior hockey for the Toronto Native Sons, West Toronto Nationals, and the Toronto Young Rangers from 1930 to 1934. in 1934-35 he played for the Toronto All Stars senior team.
He turned pro with the Syracuse Stars in 1935-36 and was promoted to the Toronto Maple Leafs the next season. He spent the better part of three seasons with the Leafs, scoring 12 goals and 13 assists in 78 NHL games. In 1938-39 he suffered a career-ending eye injury.
References
Edit
Ad blocker interference detected!
Wikia is a free-to-use site that makes money from advertising. We have a modified experience for viewers using ad blockers

Wikia is not accessible if you've made further modifications. Remove the custom ad blocker rule(s) and the page will load as expected.