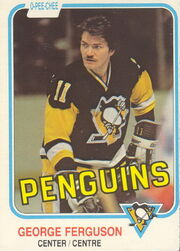 George Ferguson (born August 21, 1952 in Trenton, Ontario) is a retired former professional ice hockey player who played 797 career National Hockey League games for the Toronto Maple Leafs, Pittsburgh Penguins and Minnesota North Stars. He was selected in the first round of the 1972 NHL Amateur Draft from the Toronto Marlboros.
Ad blocker interference detected!
Wikia is a free-to-use site that makes money from advertising. We have a modified experience for viewers using ad blockers

Wikia is not accessible if you've made further modifications. Remove the custom ad blocker rule(s) and the page will load as expected.