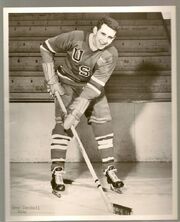 Gene Campbell (Born Aug 17 1932 in Minneapolis, Minnesota) is a retired hockey player. He won a Silver medal at the 1956 Olympics as the USA Team Captain. He played college hockey for the Minnesota Golden Gophers. He played for the Twin City Fords and the Rochester Mustangs during his club career.
Eugene Edward Campbell was born on August 17, 1932 in Minneapolis, MN.
Gene graduated from the University of Minnesota and played hockey there for 3 years.  He married Barbara Ware on June 25, 1955 in Minneapolis, MN and went on to play hockey in the 1956 Olympics as the USA Team Captain playing with hockey legendary names such as John Mayasich, and Willard Ikola. 
Gene was a long-time member of Autumn Ridge Church and was the hockey coach at Lourdes High School from 1982-1996. 
He died on April 8, 2013 at Lake Minnetonka Shores in Spring Park, MN. 
Ad blocker interference detected!
Wikia is a free-to-use site that makes money from advertising. We have a modified experience for viewers using ad blockers

Wikia is not accessible if you've made further modifications. Remove the custom ad blocker rule(s) and the page will load as expected.