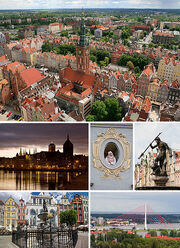 Gdańsk is a city of over 450,000 people in northern Poland on the Baltic Sea coast. Its metro area has over 1,000,000 people. The 2004 Men's World Ice Hockey Championships Group D games were played here from April 12-18, 2004. It was also the host of the 2010 World Junior Championship Group B games from December 14, 2009 through December 20, 2009.
External Links
Edit
Ad blocker interference detected!
Wikia is a free-to-use site that makes money from advertising. We have a modified experience for viewers using ad blockers

Wikia is not accessible if you've made further modifications. Remove the custom ad blocker rule(s) and the page will load as expected.