Ad blocker interference detected!
Wikia is a free-to-use site that makes money from advertising. We have a modified experience for viewers using ad blockers

Wikia is not accessible if you've made further modifications. Remove the custom ad blocker rule(s) and the page will load as expected.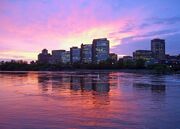 Gatineau is a city of about 240,000 in western Quebec, Canada. It is directly across the Ottawa River from the city of Ottawa.
Prior to amalgamation in 2002, the town of Gatineau (which is a part of the new city) was a much smaller town.
(Eastern Ontario Junior C Hockey League, 2009-2010) based in Alymer; league renamed
(National Capital Junior Hockey League, 2010-2012) sit out 2012-13 season; return as Gatineau Jr Olympiques
Arena Robert Guertin
Arena stade Pierre Lafontaine
Arena Beaudry
Arena Baribeau
Arena Campeau
Arena Cholette
Arena Jean-Paul-Sabourin
Centre sportif Robert-Rochon
External Links
Edit